Grower of the Year Winner: Littywood Farm, Berry Gardens Growers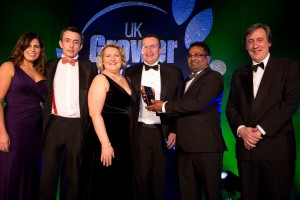 We all know that peas and carrots go well together, but how about cherries and strawberries? Littywood Farm, run by the Busby family, has discovered that these two make a great couple and has recently helped Asda to launch a new twin pack containing both fruits.
The twin pack is one of several initiatives launched by Littywood Farm during the past few years to help the company better meet the needs of its retailer customers. Many of these initiatives have happened since 2012, when brothers Steven and Tim Busby took over the day-to-day running of the farm with the support of their father, George.
Over the past two years, for instance, the family has tripled the number of strawberry varieties grown on its land. This has helped the business, which is a member of Berry Gardens Growers, to deliver a robust and comprehensive range of strawberries to its retailer customers.
During the same period, Littywood has used the Maravilla variety to extend its raspberry season — achieving, in 2013, its longest raspberry-picking season to date. The farm was picking raspberries for an impressive nine months of the year, from April until December.
The Busby family members are evidently accomplished soft-fruit growers but last year they even added stone fruit to their list of skills. This is because 2014 was the first year that Littywood Farm grew and supplied cherries to UK supermarkets.
Due to the growing interest being shown in this tasty stone fruit by UK retailers, the business planted a 25.5ha cherry orchard in 2010. Last year also saw the planting of a further 24,000 cherry trees — indicating that, as a couple, the cherry and the strawberry are most definitely set to "go the distance".